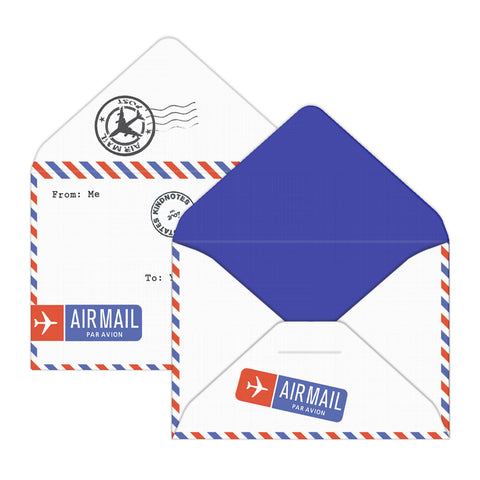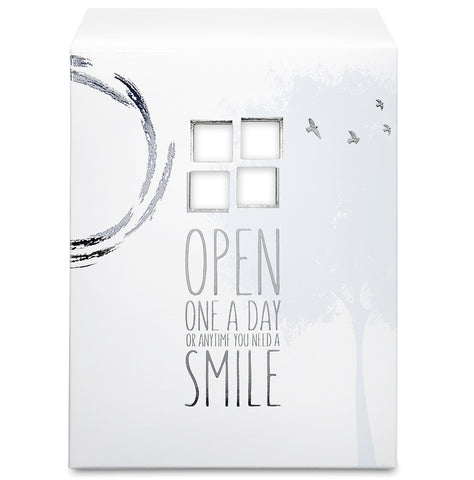 Airmail Jar of Notes
Give your lover, family and friends on the other side of the world the joy of opening a letter of love from you every single day! This decorative glass jar is filled with 31 different messages all enclosed in mini envelopes with fancy font and iconic airmail illustrations just like the real thing! Bridge the distance between you and your loved ones with this memorable keepsake that will forever be a treasured memory. Perfect gift for birthdays, anniversaries or simply just to celebrate friendship that has come a long way.
Select a message category of your choice below, such as birthday, positive thoughts, love, etc. or choose Blank Papers to write your own notes (Click here to view the list first)
31 of our best-selling messages from your chosen theme are printed on cardstock paper, inserted into linen decorative envelopes and artfully arranged inside the jar
Each set includes a keepsake glass jar with lid, crinkle cut filling, satin ribbon and silver embellishment
Your gift will arrive fully assembled, complete with a beautiful silver-foil accented gift box
Glass Jar with Lid:
Approx. 3 3/4" x 6" |
Envelopes:
Approx. 2 5/16" x 1 11/16" closed |
Note Card:
Approx. 2 1/8" x 1 9/16" |
Blank Note Card:
2 1/8" L x 3 1/8" H to be folded in half, if chosen.
*Actual colors may vary slightly depending on monitor/device
Read more
---
---