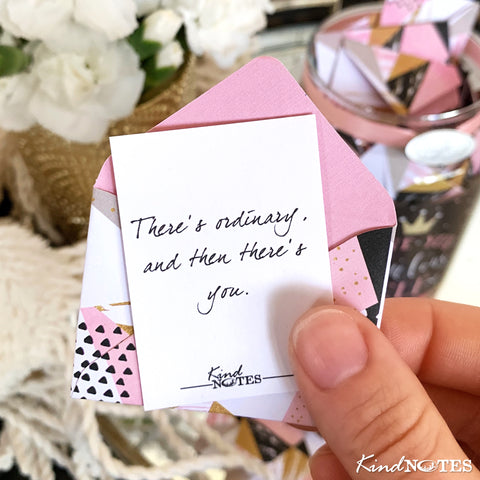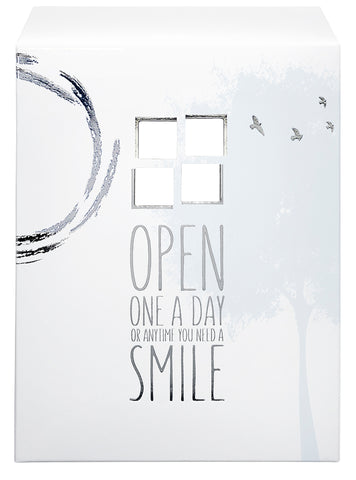 Love Your Fabulous Self Jar of Notes
When someone is fabulous, tell them. And there is no better way than with Love Your Fabulous Self Jar of Notes. This chic jar is embellished with a sparkly crown to remind her of her royal status and tied with a pretty pink ribbon.
Your 31 notes of encouragement can be opened one a day, all at once, or any time they need a pick-me-up—something even the most fabulous need from time to time.
This uplifting and unique gift is a thoughtful gift for co-workers, friends, family members—anyone who needs to be reminded just how fabulous they are.
Select a message category of your choice below, such as birthday, positive thoughts, love, etc. or choose Blank Papers to write your own notes (Click here to view the list first)
31 of our best-selling messages from your chosen theme are printed on cardstock paper, inserted into linen decorative envelopes and artfully arranged inside the jar
Each set includes a keepsake glass jar with lid, crinkle cut filling, satin ribbon and silver embellishment
Your gift will arrive fully assembled, complete with a beautiful silver-foil accented gift box
Glass Jar with Lid:
Approx. 3 3/4" x 6" |
Envelopes:
Approx. 2 5/16" x 1 11/16" closed |
Note Card:
Approx. 2 1/8" x 1 9/16" |
Blank Note Card:
2 1/8" L x 3 1/8" H to be folded in half, if chosen.
*Actual colors may vary slightly depending on monitor/device
Read more
---
---