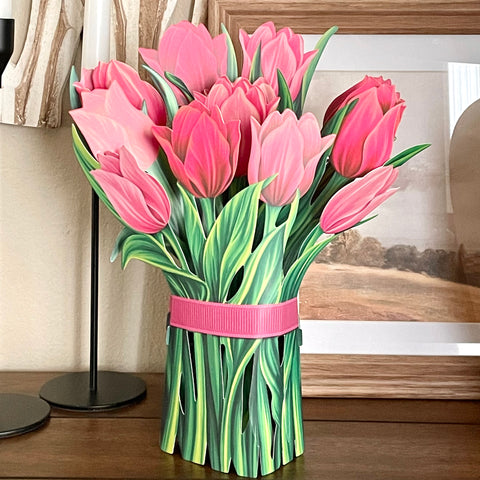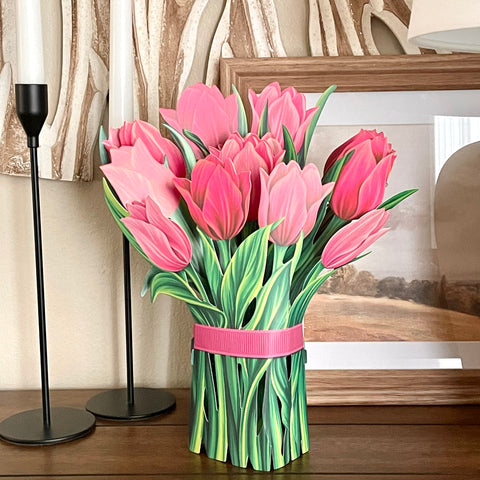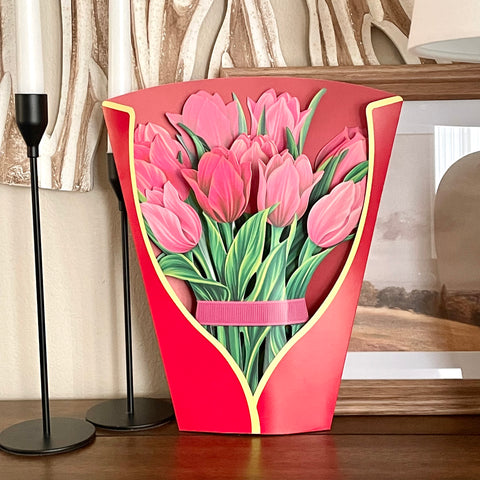 11-Inch Pop-Up Floral Bouquet - Pink Tulips
Send a beautiful floral bouquet that will last! No water needed, no glass to handle, yet makes an eye-catching centerpiece. Your recipient will appreciate this vibrant arrangement that is perfect to pair with a jar of KindNotes, or on its own!
Approx. 9.5" x 11.5" measured by the sleeve when flattened. The sleeve includes visual instructions to prop open the bouquet: Using both hands pinch edges of ribbon together.
The arrangement consists of four layers of printed flowers with two rubber bands that keep it propped open for display on a flat surface (no assembly needed)
The flowers are nicely visible all around in an oval shaped base, with a distinction from the front and back side. The two inner sections of the bouquet create its layered look. 
Arrangement is printed on thick quality cardstock, however creases may be evident due to the stretching of the rubber bands to keep it opened. 
Check estimated measurements above as we provide closeup photos to see details. Colors and size may appear larger or smaller than actual size, depending on the monitor or device used.
Ships flat with complimentary oversized kraft envelope that can be used to mail out (available if shipping to billing address); while supplies last. 
Total two pieces shipped together: bouquet inside of sleeve. Gift wrapping not available for bouquet. 
Mix and match 6+ bouquets and receive $5.00 Off applied at checkout. Great to give for "Just Because" moments! 
Read more
---
---